Photos by Bruce Patterson
(Scroll down for more photos and for salmon fishing information)
View Old Fishing Photos
View Archived Photos
Current conditions on the York River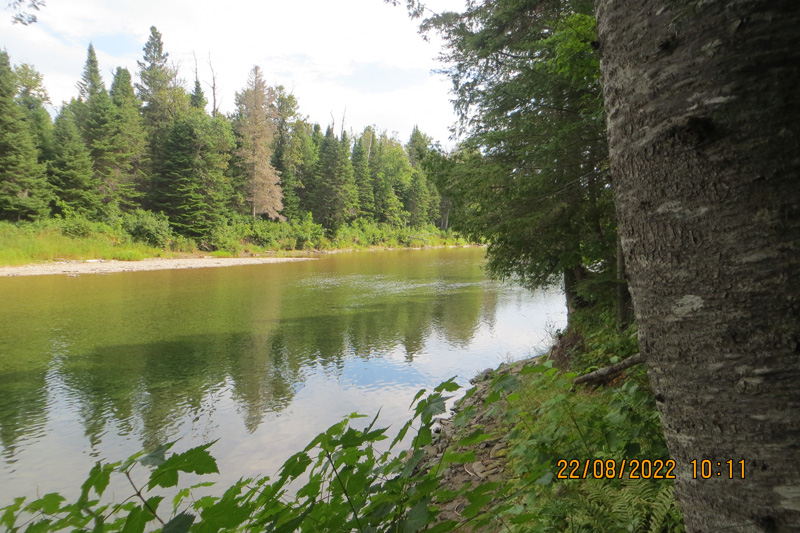 Gaspe nature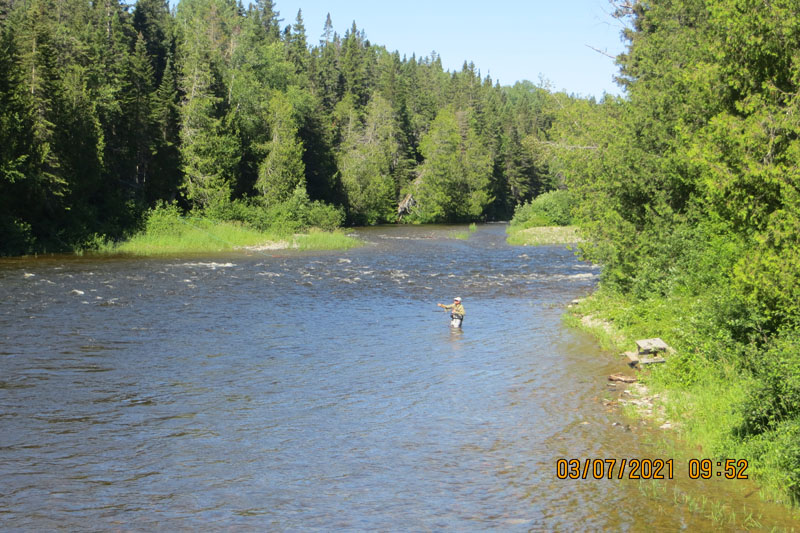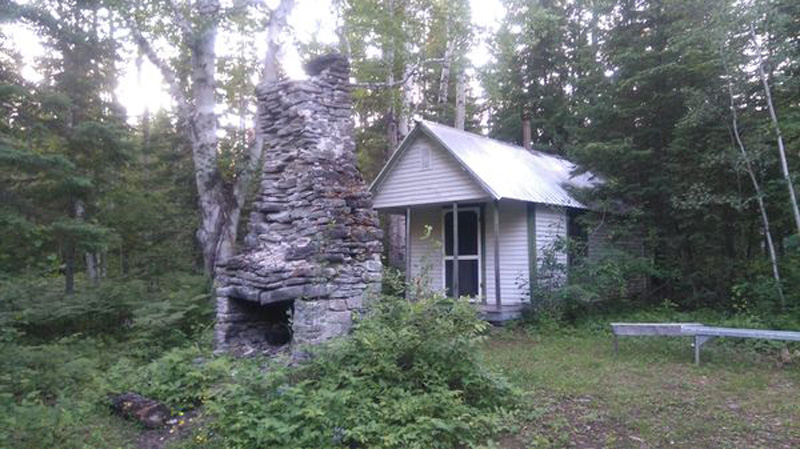 Photo from the past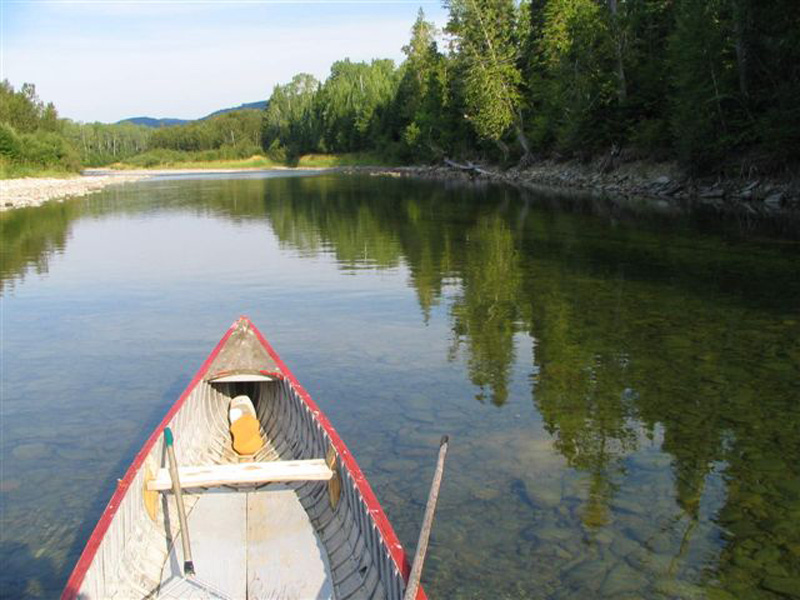 Salmon fishing summary
by Bruce Patterson
March15th, 2018, two doves in our birch tree this morning. spring is on the way! lots of snow to melt though. new salmon fishing regulations for 2018. 1 tag for adult salmon and 3 for grilse. See "gogaspe facebook page"for new regulations by ASF on salmon fishing in Quebec. For Immediate Release Jan. 19, 2018 View the full study here. It can be downloaded free: http://www.nrcresearchpress.com/doi/abs/10.1139/cjfas-2017-0373#.WmHiOZM-fvc More Young Atlantic Salmon Eaten by Striped Bass than Previously Believed Analysis published in scientific journal shows significant predator impact in Miramichi River ST. ANDREWS - Out-migrating juvenile Atlantic salmon in New Brunswick's Miramichi River are being consumed by striped bass at a much higher rate than previously believed. A new study published in the Canadian Journal of Fisheries and Aquatic Sciences suggests approximately 18 per cent of juvenile Atlantic salmon from the Northwest branch of the Miramichi River are eaten in some years as they attempt to migrate through the estuary. Inferred predation rates for salmon smolts leaving the Southwest branch of the Miramichi River were lower, but still significant as described below. Researchers from the Atlantic Salmon Federation (ASF), Quebec's Ministère des Forêts, de la Faune et des Parcs, and Fisheries and Oceans Canada used four years of acoustic tracking data to model the interaction of striped bass and Atlantic salmon. Tiny acoustic transmitters were inserted into the abdominal cavity of 514 salmon smolt from 2013-2016. One hundred and ten striped bass were tagged in the fall of 2013. Receivers to detect the surgically implanted transmitters were placed throughout the Southwest and Northwest Miramichi rivers, in Miramichi Bay, and across the Strait of Belle Isle, approximately 780 kilometres away. First, the movement of each species was analyzed to determine typical patterns. Then the abnormal movement of some tagged smolt was compared to the known profile of striped bass. "We noticed some of the tagged smolt would exhibit behaviours very similar to those of striped bass," said ASF biologist Jason Daniels, the study's lead author. "Using statistical models, we determined the likelihood that these salmon, along with their acoustic tags, had been consumed by striped bass." While Atlantic salmon throughout the Gulf of St. Lawrence have experienced a multi-decade decline in abundance, striped bass have exploded from less that 5,000 spawning adults in the 1990s to approximately 318,000 in 2016. The Gulf of St. Lawrence striped bass population has only one known successful spawning location, below the head of tide in the Northwest Miramichi River. The spawning aggregation of striped bass overlaps with the out-migration of salmon smolts. As a result, the Northwest Miramichi suffered average predation rates of 15.3 per cent during the study compared to 8.6 per cent for the Southwest branch, where juvenile salmon are less exposed to the concentration of striped bass. Comparisons also indicate an effect on the overall juvenile population. "Since striped bass numbers began to climb we've seen consistent declines in the survival of Miramichi salmon smolts, a trend that is not apparent on ASFs other Gulf of St. Lawrence study rivers, the Restigouche and Cascapedia." said Daniels. While striped bass predation of juvenile Atlantic salmon has increased, the study authors state most Atlantic salmon mortality still occurs beyond the estuary. - 30 - We have been pretty lucky with the weather here in Gaspe, with mild weather and no big snow storms simce February 23rd. A final salmon count has been done on all three rivers in Gaspe in September and the results were very good on the York and Dartmouth rivers with count on the St Jean not as good. York had 160 grilse and 1170 adult salmon for a total of 1330. Dartmouth had 100 grilse and 870 adult salmon for a total of 970.. St Jean had 82 grilse and 543 salmon for a total of 625.... See below for 2017 hunting seasons Hunting seasons and regulations for 2017 shown below. See ASF rivernotes and stats for Gaspe rivers. (Click below). See salmon page for hunting regulations and dates for hunting in Quebec 2016.
salmon fishing season in Quebec
atlantic salmon river notes Sept 1st
How the pools on York river got their name.


2016 hunting regulations Quebec 2017
salmon fishing regulations
spider catches fly video
50 fishing knots can be seen under pictures menu at the left of this page.
50 knots
solunar tables (enter area code with space G4X 2M7)
PLEASE NOTE: all links for fishing are now on the upper left side of this page.
"photo #1" " lot of snow on the ground in Gaspe "
"photo# 2" "fall colors sept 26, 2017"
"photo# 3" "kids having fun trying their luck."
"photo #4" " A calm and peaceful morning on "hanks run"